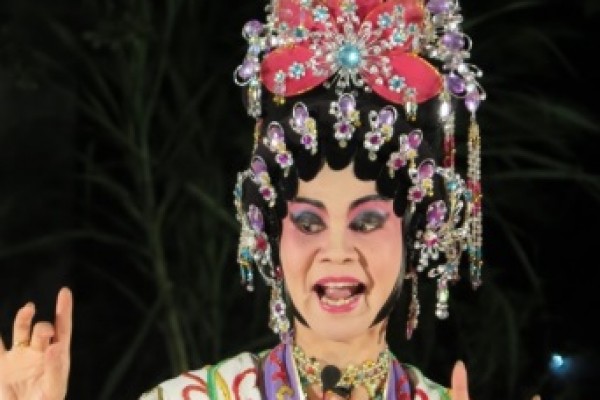 by Amanda Thomson
Kaiping county in the Pearl River Delta may only be 95 miles from Hong Kong, but to me, it was like a trip back in time to the New Territories of the 1980s. The countryside is dotted with duck and geese farms, small holdings, paddy fields, and Diaolou. I first read about these watchtowers in 2005 when this area obtained UNESCO status for the Diaolou and had long wanted to visit. Our three days in Guandong were spent looking at Diaolou and other historic buildings, and visiting Cang Dong village, a project where the village Diaolou, ancestral halls, school and other clan buildings have been carefully preserved to provide an understanding of village culture and life.
Our first stop of the trip was at the Overseas Chinese Museum in Jiangmen for an overview of Overseas Chinese history, which gave us a good understanding as to why and how so many Chinese, possibly up to 3 million from the region, left China between 1840 and the 1930s to travel to work overseas, and how they retained a bond with their home, often sending large sums of money to build mansions, schools, clan houses, and Diaolou in their hometown.
We then travelled to Kaiping county, where we saw our first Diaolou or watchtowers which were financed by Overseas Chinese, mainly between 1900 and 1939 to protect their families left at home from the bandit raids prevalent after the fall of the Qing Dynasty. These towers were usually of four to seven storeys and for the most part were not intended to be occupied full-time but were used only when bandits were in the vicinity and to store valuables. One of the most interesting aspects of these towers is that the adornments and designs on the buildings often reflect the international nature of the individuals who paid for them to be built including Roman columns, Baroque embellishments, Byzantine domes, and neo classical Chinese Renaissance decorations and paintings. This was particularly evident in the Zili village with its nine Diaolou and the Li Gardens mansions, which were still furnished in the style of the 1930s.
Some of the highlights of our visit were being welcomed into Cang Dong with a lion dance and the evening entertainment in the village, which included extracts from Cantonese Operas, songs, and music by village members, whilst we were treated to a banquet cooked by some of the ladies of the village. The warm welcome we received and the beautiful location made the evening a truly memorable experience. We were also fortunate to have a lecture from Dr Selia Tan, who leads the conservation project with Rocky Dang, and who was instrumental in obtaining UNESCO status for the Diaolou.
On the last day, we visited the Nanlou Diaolou built on the bend of the River Tan, where seven members of the Situ clan died fighting the Japanese. This was followed by a visit to the delightful town of Chikan with its riverfront rows of shophouses, built in the 1920s by Overseas Chinese. Once again the mix of Chinese and western styles of architecture were on show. Even the former cinema built to an art deco design would not have been out of place in a British, Australian, or American town of the 1930s.
We had some wonderful meals, including our last lunch where the rice noodles were made in front of us from rice harvested from fields next to the restaurant and from organic fresh local vegetables.
Our tour leader Peter Stuckey, with his endless patience, and Rocky Dang with his wealth of knowledge, energy, and untiring enthusiasm made this trip so much fun and so memorable. It was hard to believe we travelled such a short distance to see so much.