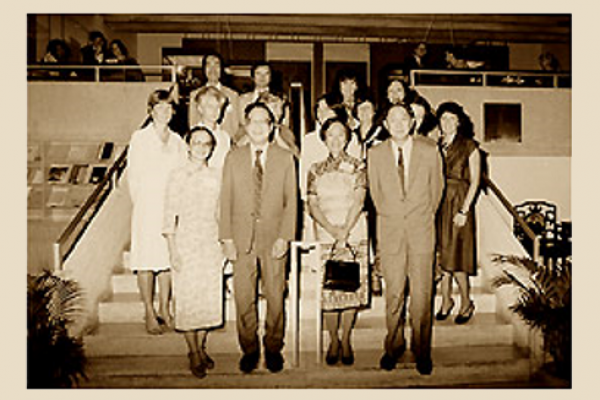 In November 1980 a group of nine art lovers led by Madeleine Tang and Irene Dunning, including Judith Bullitt, Lady Pauline Gordon, Vicky Gustavson, Helen Hardie, Dianna Addis, Mary Maclachlan and Grace Sheng, gathered together to share their resources with those of the ten year old (as it was then) Art Gallery at The Chinese University of Hong Kong. The Friends was officially inaugurated on Friday October 16 1981 with a committee of five and a membership of ten.
The first set of goals set were to:
Foster public interest in the Art Museum
Publicize the Art Museum to overseas visitors to Hong Kong
Provide students with postgraduate scholarships in Oriental Studies at the Chinese University.
With generous financial backing from Dr J.S. Lee, the Friends was able to concentrate on gathering in homes, galleries or at the University to discuss the arts. They chose an ancient pictogram meaning 'friends' as their logo. Two seal characters 'you' (friends) face each other (similar to the 'double-F' pattern found on Bronze Age ceramic shards commonly found in Hong Kong). Joining together in a spirit of scholarship, reaching out to the community and forging friendships are what the Friends has come to represent to its members since those founding years.
By the end of the first year, the membership had grown to nearly 100 members. Our membership continues to grow with many of our Friends living abroad.
There is no doubt that without Madeleine's original work and insight, the Friends and our on-going contributions would not be in place today.
Although the Friends organization has grown in size and scope, the original objectives remain unchanged. The Friends first and foremost promotes community interest in the Art Museum.