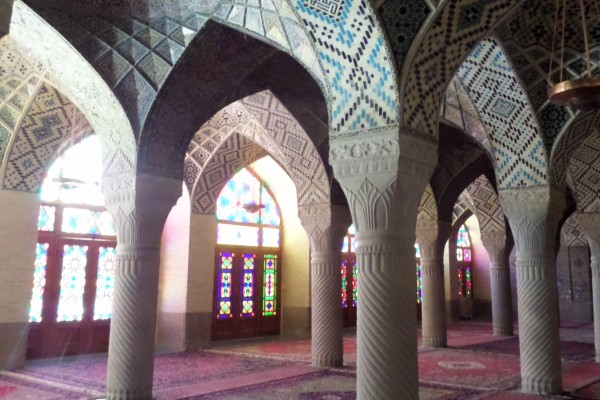 From the Arabic Gulf to Persian cities by Deborah Wiley
The "jumping off point" for our week long trip, was one day in Doha – a very modern city on an azure blue bay that grew out of the desert but still very much a desert. With a population of 1.3 million people, only 400,000 are "natives" and the rest in service to the Qataris. The culture of Qatar has been acquired by the sheiks from their oil wealth to display to visitors their Arabic/Islamic ancestry.
A trip to Iran had a shroud of mystery to it for a Westerner. "Peeling back the veil" of mystery was very appealing to me. I went to Iran expecting to see lots of beautiful tiles and rugs and vowing to keep my mouth shut about topics of politics and religion. Well, what a breath of fresh air it was to arrive and find something completely different.
What we found were people approaching us at every venue we visited who wanted to take pictures with us. We found ourselves engaged in question and answer sessions – Where do you come from? What do you think of our country and the people of Iran? Coming from America I was pleasantly surprised at the number of times I was told how much the people liked our country.
The culture of Iran was far more than I expected. We heard beautiful poetry of Sa'adi and Hafez (13th and 14th century AD respectively) recited by our very passionate tour guide. We saw the once magnificent, now ruined, 2500 year old complex of palaces with preserved bas relief sculptures, beautifully detailed frescoes of historical scenes painted in the 15th century, tile paintings in palaces, large courtyard houses and mosques whose bright colors and details are as vivid today as when they were painted or made, and spectacular many acre formal gardens each with moving water, alleys of trees (cypress, elm, oak, plain trees and pomegranate), and roses, roses, roses….. the royal jewelry and carpets – all with intricate design and detail, patiently created by either expert craftsmen or nomads wandering north and south in the desert. The glories of the Silk Road were and are everywhere in Persia.
DOHA – by Ruth Phillipson
The Sheik Faisal Museum established in 1998, is miles from the city centre and the drive there afforded an insight into this harsh, flat, desert landscape. The Qatari style structure was built around several old wooden boats but as the Curator led us through hall after hall, some resembling aircraft hangers, we were constantly amazed at the amassed treasures. It appears that this private collector knows no bounds, with the exhibits ranging from old and antique cars, to coinage, Arabic prints and manuscripts, exquisite old Korans, fossils, weaponry, carpets, aircraft and even a gorgeous old house from Aleppo, lovingly reassembled, tile by tile, in the museum. The parting shot came as we learned that Sheik Faisal is working to house 650 more old cars! Whatever one thinks of this extraordinary and compulsive collector, it is certainly a vast treasury of Arabic history.
The Museum of Islamic Arts, Qatar, came as almost a relief after the Sheik Faisal Museum! Housed in a stunningly beautiful stone and glass masterpiece by I. M. Pei, it opened in 2008. The structure sits on a specially built island in Doha bay affording a welcome breeze on the extensive outdoor terraces. The cool, soaring interior was a joy to behold and the world class exhibits of ceramics, carpets, jewels, metalwork and textiles took our breath away! The collection spans 1,400 years of Islamic art and history and one could spend hours gazing in wonder at the exquisite colours and sheer artistry of the lighting and display. This museum is a feast for the eye and well worth a revisit.
TEHRAN AND KASHAN by Doris Lye
Tehran, population 14 million, and capital since 1796, was a surprise. What I imagined would be a bustling, dusty, drab city with a somewhat somber, oppressive atmosphere, turned out to be a dusty, busy but rather green city. There wasn't a sense of oppression or submission on the part of the women. On the contrary, everyone we met, particularly the girls and women were warm, friendly, confident and lively.
Established in 1976 by the last queen, Farah Diba Pahlavi, the exterior of the Carpet Museum was built to resemble a carpet loom. It was bright and airy with a breathtaking collection of fine carpets from all over Iran dating back to the 18th century. As we gazed at beautiful carpets, some adorned with colourful profusions of flowers, others more staid, we could not help but admire the skill and creativity of the weavers in producing such wonderful works of art.
Next stop, the National Museum, designed by French architect André Godard and completed in 1928. We concentrated on the pre-Islamic collection. Among the notable exhibits were relics from Persepolis from the Archaemenid period, including a frieze of an audience scene of Darius I – or Xerxes I, a beautifully carved double bull-headed capital, a headless statue of Darius with hieroglyph inscriptions and a rather realistic statue of a sitting dog. We were told of the origin of the phrase "parting (Parthian) shot". Parthians were reputed to be skilled horsemen and capable of turning back and firing arrow shots while riding away from their enemies. One striking exhibit was the Salt Man, so named as his body was found buried in a salt mine. Due to the salt, his head was amazingly well-preserved, and his long hair, beard and gold earring (still in his ear) indicated that he was a high-ranking person. Studies dated the body to 1700 years ago.
The Golestan Palace – Palace of Flowers-, a UNESCO World Heritage Site was another highlight. The Palace became the residence of the Qajar kings since Agha Mohammad Khan Qajar moved his capital to Tehran in 1796. The various buildings within the complex surrounded a large manicured garden. We were struck by the beauty of the tile work with its colourful variety of motives, some depicting scenes in Europe. One outstanding building is the Marble Throne, a richly decorated terrace on which sits a settee-sized throne made of yellow marble. Also a feast for the eyes was the jewel-toned stained glass, sparkling ornate mirror work and glittering chandeliers decorating some of the halls.
The Treasury of National Jewels is reputed to be one of the finest jewelry museums in the world. Jewel encrusted thrones, an emerald studded globe, crowns and tiaras (including those used by the last Shah at his wedding), aigrettes, water-pipe containers, boxes, daggers, rings, brooches, piles and piles of loose diamonds, spinel, strings upon strings of pearls from the Persian Gulf, and the Darya-i-Nur or Sea of Light, the largest pink diamond in the world, all of 182 carats, set into an aigrette worn by Nasser-ed-din-Shah, one of the Qajar kings.
Along our way to Kashan, we stopped in the city of Qom, to take photos of the beautiful domes of the shrines and mosques. Qom is considered a holy city by Shi'a Muslims and is home to the shrine of Fatime Masuma, sister of 8th Imam Ali al Rida. Honoured as a saint, her shrine is considered one of the most important pilgrimage destinations in Iran. The city is the largest centre for Shi'a scholarship in the world and we saw many clerics walking around the busy streets, some with black turbans and some white (black is worn by clerics who are descendants of the Prophet through one of the 12 Imams).
Our hotel in Kashan, the Ameri Family House was a traditional home built during the Zand era (1750-1794) by Agha Ameri, the governor of Kashan, and since converted into a boutique hotel. The traditional architecture is quite impressing. It has several lovely courtyards surrounded by a warren of rooms.
Two historic houses in Kashan, the Tabatabae House and the Borojerdi House were built for wealthy merchant families, and featured beautiful gardens, wall paintings, and intricate stucco mouldings. We learnt about the unique characteristics of Persian residential architecture. Of particular curiosity to us were the double knockers on the main door, one for men and one for women visitors which make different sounds so that the occupants know whether it is a man or woman at the door.
The Fin Garden, another UNESCO Heritage site on our itinerary is the oldest garden in Iran (completed in 1590). It is considered the epitome of the Persian garden; a lush refreshing green lung in the surrounding desert, with many water features, fed by water coming from a spring in the hills behind the Garden.
And as we drove into the desert towards Esfahan, it began to snow!