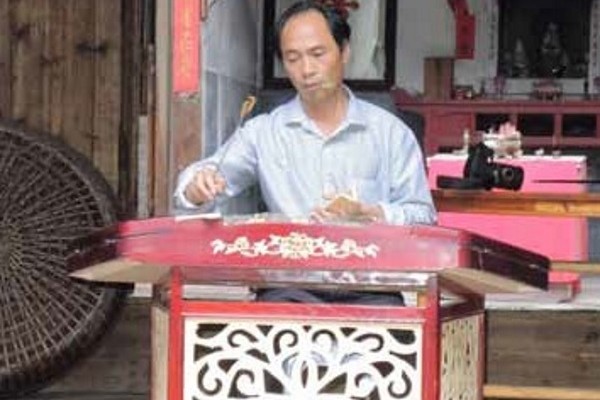 The Tulous of Fujian – A memorable experience
by Gillian Kew
With today's digital cameras we take thousands of photographs, storing them on USB sticks as "aides memoires" that we rarely see again; when we do, time has often blurred the memory as much as the picture is clear. I hope this will not happen with the Friends trip to Fujian because my memories of the trip are quite special. More random than linear, they pop up like the bobbing heads in the "whack-a-mole" carnival game; and I like it that way. That said, and to set the scene, my first memory does come from the start of this tour. After a minor accident on the plane I was left limping and wondering whether I could continue, but with the help of Peter, our amazing tour leader, the bamboo stick he found for me, and the various arms of my fellow travellers, this became a wonderful experience to remember.
The focus of our trip was, of course, the Fujian Tulous, solidly built, earthen wall and wood frame structures designed in a circular, inward-looking pattern with an open courtyard and only one entrance / exit. Built as much for defence as for living, they are several storeys high, and at their peak, housed up to 800 people. The fortified mud walls feature windows only above the second floor and overhanging roof tops, designed to protect against nature and man, with gun-holes in the top floor, suggesting that mankind was the most to be feared. And we had the privilege of staying there, in somewhat better conditions, with en-suite rooms (a hand-basin, squat toilet, and a shower over said toilet) and air conditioning. We were hardly living the life of the tulous clans-folk of years gone by, but we were given a taste. I loved sitting in the open courtyard in the early morning, drinking coffee and listening to the sounds of nature and waking humanity.
Travelling around the area we saw local tea plantations, temples, and an orchid farm famous for producing rare orchids. We were a little early in the season to see many blooms but were reliably informed that it was the leaves that mattered. It was an experience to witness row upon row of beauty in the making while we sipped local tea, surrounded by papaya, passion fruit, and osmanthus trees. Some of our group could not resist the tea: that phrase "all the tea in China" came to mind as they returned from each stop loaded up with yet more bags of the delightful leaf!
As well as some wonderful teas, we were treated to some exceptional local produce; meals were more like feasts! As well as soups and various meats, fresh, local vegetables were coupled with fish, seafood omelettes, local mushrooms and generous use of garlic and chillies in some of the dishes. Although some of the soups were a little bland, I learned that this is in keeping with the local food culture of allowing the natural flavours to speak for themselves. And in-between meals we could rely on Rocky to keep us well supplied with local fruits and a wide array of Hong Kong snacks!
No tour would be complete without some local culture and we were treated to an exceptionally fine puppet show in the courtyard of the tulous, as well as an afternoon of local music, and a demonstration of local wine production, which included a tasting that somewhat made up for the belligerent skies that opened up and barely ceased to pour forth that day. We were also very fortunate to be given talks by Dr. Selia Tan, on orchids, the Fujian Tulous, and local conservation and heritage issues. During her final talk we learned of her successful fight to gain UNESCO World Heritage Status and preserve the crumbling Tulous, and of her current project, the Kaiping Village Conservation and Development Project to preserve the tangible and intangible cultural heritage and traditions of this area. To learn more, visit www.cangdongproject.org.
Our final night was spent in the luxury of Xiamen, although, truth be told, I missed the simplicity and tranquillity of my little "Tulous en suite". There were no fire-spouting hair driers, over-priced bottles of water, or noisy crowds in the Tulous! That said, our final dinner in Xiamen was excellent. Our guides, Rocky and Peter made sure that it was special, as we were able to choose from a vast buffet, as well as excellent a la carte selections. But even then, it was more about the company – relative strangers had become friends and we had all enjoyed the experience immensely. As I left my (by now fraying) bamboo stick behind and headed for home, I was, and remain grateful to have travelled and learned with a great group of Friends and our supportive and knowledgeable Tour Leaders, Peter Stuckey and Rocky Dang.