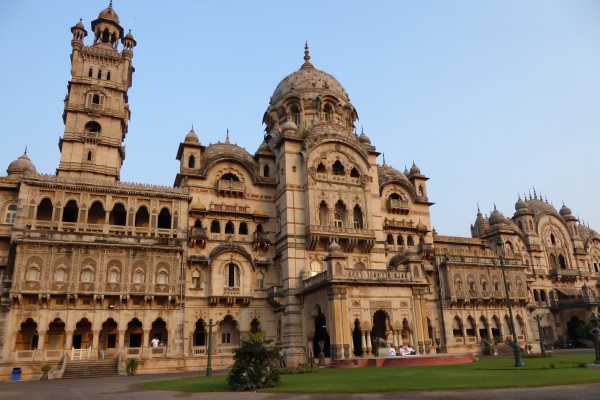 The Jewels of Gujarat
by Diana Williams.
Thirteen of us met up at a hotel in Delhi, not far from the airport for a very early departure by air next morning to the capital of Gujarat, the unpronounceable "Ahmedabad", considered the Manchester of India in days gone by. We had all come from the far corners of the earth; a meeting of Friends, old and new.
Gujarat, where we were to spend the next eight days is a "dry" state. We would be savouring excellent vegetarian food, in what is the westernmost state of India where ninety percent of the population is of Hindu belief. Ahmedabad, where the old Calico Mills operated, was one of India's leading textile production and trade centres from as early as the 15th Century.
We encountered few overseas tourists anywhere on our trip compared to other parts of India, which made for a refreshing change.
Our first visit of note in Ahmedabad was to the renowned "Calico Museum of Textiles and the Sarabhai Foundation Collections" founded in 1949 and inaugurated by India's first Prime Minister, Jawaharlal Nehru. Our visit was much enjoyed as we wandered through an amazing old palatial Haveli housing an eclectic collection of textiles. We also found ourselves wandering through well-tended bamboo groves and gardens to continue our visit to the 'Chauk', which housed royal tents, carpets, and textiles for India's export trade as well as regional ethnographic textiles.
We were in awe of our docent throughout the visit as she efficiently imparted her information with a unique approach to museum guiding, by managing to incorporate her philosophy while imparting the facts.
Another aspect to Gujarat is the architectural wonders which are unique to the area. We visited amazingly constructed and adorned temples and baths (stepwells), which are well preserved and truly worth seeing in one's lifetime. Of particular note is the sun temple in Modhera, constructed in 1026/1027 AD, one of few shrines in India dedicated to the Sun God. There is a pond/ bath/ stepwell on the site, which is impressive and the first of its kind that we saw on the trip.
We later visited the Unesco World Heritage site of Patan, the 11th C Queen's stepwell, Rano ki Vav, which is a fine example of subterranean well architecture. Gugerat has two distinct seasons, one of rains with flooding and one of very dry weather. In the 11th to 12th C, Patan was the capital of the Gugerat Kingdom and much of the stepwell and other hydraulic architecture aimed at water conservation for the dry season, was constructed by Royalty at that time for the welfare of the people.
There was also a visit to a private Ikat Museum owned by one of the last surviving double Ikat-weaving families, after which some of our purses were a tad lighter, as we left clutching our treasures. We also visited Vadodara, where we were treated to High Tea at the Laxmi Vilas Palace and had Royalty join us for a brief chat before we departed. It is still occupied by the descendants of the Royal Family who built it in 1890. This enormous palace is difficult to define architecturally, but the best nomenclature would be Indo-Saracenic Revival Architecture. It is said to be the biggest residence ever built, being four times larger than Buckingham Palace and is surrounded by beautiful grounds said to be more than 500 acres in size. It was difficult to take a picture of the entire building…
Last on our busy itinerary was a visit to the medieval capital of Gujarat, Champaner, built in the 8th C AD, where we spent time at the Pavagarh Archeological Park, also a Unesco World Heritage site. The park consists of a collection of largely unexcavated examples of pre-Mughal Islamic architecture. The 1523 AD Great Mosque represents a wonderful blend of Hindu and Islamic architecture, which became the model for later mosque architecture in India.
After an interesting and varied introduction to the Jewels of Gujarat, we all dispersed to return to our various places of abode, another Friends' Trip much enjoyed by all.