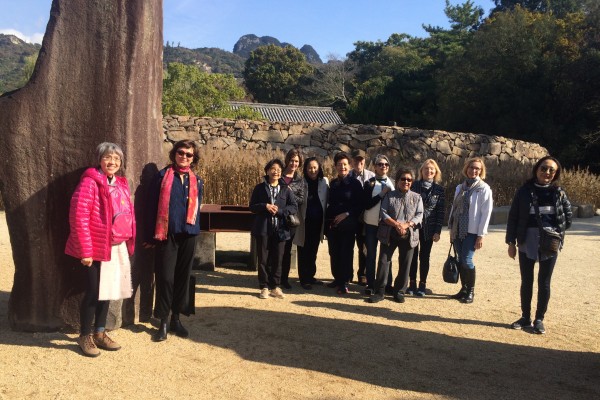 Japan: 'The Arts Constellation' A journey through tradition and modernity
by Michele Ferguson
The harmonious blending of art, architecture, and nature that we encountered on the Friends tour of Japan was an inspiration for the contemplation of beauty, the natural world, and our place in it. Our journey was a unique opportunity to join a diverse group of travellers, all of whom share a passion for art and an interest in Japan, its culture, traditions, and contemporary life.
The Isamu Noguchi Garden Museum at Mure near Takamatsu on the island of Shikoku was the first of many extraordinary experiences. Noguchi's work is steeped in the spirit of the land, echoing his belief that sculpture is a way of teaching people about nature and that art should become one with its surroundings. This place was his refuge. Here the great Japanese-American artist worked on large stone sculptures and created a sculpture garden of such meditative beauty that it continues to inspire artists and visitors.
We looked out to the world beyond as he would have done, and onto the garden area where stone works were placed like performers on a stage. We saw streams of stone and imagined the sound of running water. Around the studio were more sculptures, artworks, and tools.
My expectations were high for the art islands of Teshima, Inujima, and Naoshima in the Seto Inland Sea. I had heard tales of their extraordinary installations and wanted to see the ways in which contemporary art had contributed to the revitalisation of these islands. I had also heard it was complicated to arrange travel to the islands. Travelling with the Friends was a different story! We crossed the Inland Sea in the comfort of a private boat as our tour leader, Keiko Packard, spoke about the islands and shared her knowledge with us.
Teshima, our first island, had been a prosperous agricultural area until the 1970s when it became an illegal dumping ground for industrial waste. It is now undergoing environmental restoration. Our local guide, Yoshi Ohora, took us to Christian Boltanski's Les Archives Du Coeur where we had our heartbeats recorded and heard the amplified heartbeats of others drawn from thousands of stored recordings.
Teshima linked into the Seto Sea art expansion when the Teshima Art Museum opened in 2010. Sited on a hillside like a drop of water fallen to the ground, the graceful curved structure nestles alongside thriving rice fields. The vision of artist Rei Naito and architect, Ryue Nishizawa, this astonishing creation comprises a thin white concrete shell without pillars. Two oval openings bring in light and bird sound. Tiny drops of water rise from a natural spring, streaking across the floor in thin, silvery lines.
We also saw the Teshima Yokoo House, an old building renovated to display Yokoo's artworks, and the Shima Kitchen, a popular restaurant reconstructed from an old building that connects people to art through food.
Inujima, our next stop, is home to the intriguing Inujima Seirensho Art Museum, which opened in 2008 on the site of an abandoned copper refinery. How fascinating to see new plants slowly creeping across the preserved remains of old chimneys and other structures. The new buildings were designed by architect Hiroshi Sambuichi, while artwork by Yukiori Yanagi references the Japanese post-war writer, Yukio Mishima, who warned of the dangers of modernisation.
Also on the island is the Inujima Art House project, developed by artistic director, Yuko Hasegawa, and architect, Kazuyo Sejima. It comprises art installed in small spaces constructed from local materials and in old, converted houses.
What does the future hold for these islands as their small, aging population diminishes? Art is a key to attracting visitors, yet the issue of increasing the permanent population seems unresolved.
As dusk fell and the islands turned to indigo, our boat arrived at Naoshima's Benesse House. Designed by Japanese architect, Tadao Ando, Benesse House Museum opened in 1992 as the central facility within Benesse Art Site Naoshima. Its theme is the co-existence of nature, architecture and art. Ando's later buildings on Naoshima include the Chichu Art Museum, Lee Ufan Museum, Ando Museum, and new accommodation at Benesse House.
We had close encounters with artworks in galleries and guest rooms, in the buildings, the gardens, and along the seashore. It was astounding! Japanese artists whose work we saw included Hiroshi Sugimoto, Kazuo Katase, Yayoi Kusama, Shinro Ohtake, and Kan Yasuda. Among the other artists were Cy Twombly, Andy Warhol, Jean Michel Basquiat, Frank Stella, Antony Gormley, Yves Klein, Alberto Giacometti, Niki de Saint Phalle, Nam June Paik, and Cai Guo-Qiang.
In the Chichu Museum, Tadao Ando's quiet, poetic spaces house its permanent collection: five water lily paintings by Claude Monet, Time/Timeless/No Time by Walter Maria, and three works by James Turrell. Although much of the building is underground, natural light is the sole source of illumination.
Walking through Naoshima's Honmura district we saw the seven houses of the Art House Project, each transformed by a different artist.
On Shikoku, we had the opportunity to explore some of the more traditional and historic aspects of Japan. At Shikoku Mura, an open air "village" museum, 33 old buildings and structures have been reconstructed in their original forms. The entrance, a shaky timber and vine suspension bridge, was an exciting introduction to the farmhouses, storehouses, workshops, and the historic lighthouse.
Our introduction to the elaborate world of Kabuki took place at Japan's oldest Kabuki theatre, the Konpira Grand Theatre, also known as Kanamaru-za. Built in 1835 the theatre is still a home for Kabuki, retaining its original Edo atmosphere.
Strolling through the rich autumn colours of historic Ritsurin Garden was a rare pleasure, around every corner we came across another exquisite gem. This famous garden was designed for a local feudal lord, later opening to the public after the Meji Restoration. More garden delights were in store in Kyoto. On the last night of autumn, we walked up to Kiomizu-Dera Temple to see spectacular red foliage bathed in theatrical lights.
Beyond Kyoto, we visited the Miho Museum designed by Chinese-American architect, I.M. Pei, and sited in a hillside. While the roofline reflects traditional Japanese architecture, great glass structures bring light and modernity into the interior. We were fortunate that our visit coincided with an exhibition of the work of 17th century ceramic artist, Kenzan.
The Sagawa Art Museum, also outside Kyoto, focuses on expressions of the spirit of Japanese art. Exquisite ceramic work by Raku Kichizaemon was displayed in stunning surrounds. In the adjoining tea room we gained an appreciation of the tea ceremony, its ceremonial preparation, and presentation.
Food was an important part of our tour. It was a delight to taste Japan's fresh, seasonal produce and so many delicious snacks along the way. We had a lot of fun and memorable meals, from a simple bowl of fresh udon noodles to the delicate beauty of a Kaiseki dinner at Benesse House Museum, all embodying the Japanese belief that food should be enjoyed with all the senses.
Our tour was a fascinating journey of discovery and a tribute to the organisers, tour leader and former Chair of the Friends, Keiko Packard, supported by Belinda Piggott and Therese Lesaffre, and Keiko's assistant, Seiko Kobayashi, who had the dual roles of advance scout and boundary rider.