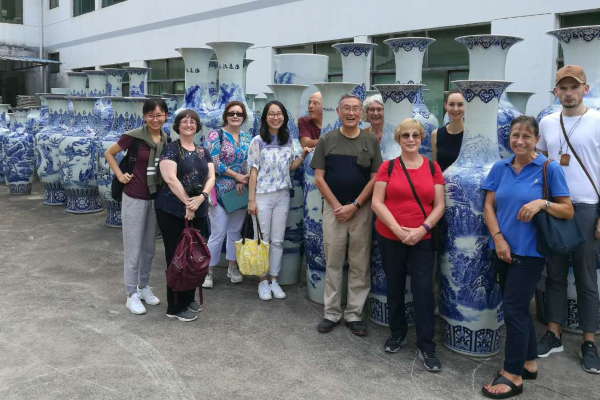 A taste of Jingdezhen – Ceramics Capital of China
by Gillian Kew
The first image that popped into my head when I started writing about this Friends tour was that of food! I know that it should have been ceramics, since we saw oodles and oodles of pots, jars, vases, and boxes; and enough dining, cooking, and drinking paraphernalia to sink the Titanic – again! Even the lamp-posts were covered in blue and white ceramics – an amazing sight for someone who was visiting Jingdezhen for the first time and had clearly not done her research! But for me, it was remembering the food that started my juices flowing. We always eat well on Friends tours but the food at every stop on this tour was superb; not fine dining, but fresh, clean, simply cooked, simply served, and plenty of it (too much in some instances).
We even ate locally grown, organically produced vegetables after our tour of the Dongjiao Centre's organic farm in Jinkeng village. And this place was a real eye-opener. As well as farming, the Dongjiao Centre is also the recipient of an annual grant from the Sir Percival David Foundation Trust, in recognition of their work in preserving, protecting, and promoting Chinese ceramics.[1] This small group of local enthusiasts was inspiring!
Our main purpose, of course, was to experience china (or porcelain, if you prefer) from the Kaolin pits through to the Ancient kilns and more modern production methods in Jingdezhen, accompanied by our expert guide, Dr Guanyu Wang, a Postdoctoral Fellow at the CUHK Art Museum, who got us off to a good start with her revealing talk on the history of Jingdezhen's ceramics, and kept us "topped up" with nuggets of information as we visited different museums and sites. We also had a good local guide to provide more local information and to corral the stragglers during our longer walks.
For over a thousand years Jingdezhen was recognized for the beauty and artistry of its ceramics, the bustling town that supplied porcelain wares to the Emperors of China. The downfall of imperialism in the twentieth century and the devastation of the Japanese occupation led to the destruction of the majority of Jingdezhen's kilns and the area fell into disrepair. Under the new Communist Regime, Jingdezhen experienced some resurgence, as porcelain became a useful propaganda tool to remind the world of China's inventiveness, craft, and expertise. Gifts were made for foreign dignitaries such as President Nixon, and porcelain statues were created to mark important events. However, this resurgence was jeopardized as the new Market Economy under Deng Xiaoping led to the breaking of the "iron rice-bowl". Jingdezhen, struggling once again, had to wait until the late 1990s for its next "life", when the first ceramics village, "Sanbao" was founded by Jackson Li and Wayne Highby.[2] This International Porcelain Arts Village is still very active, offering residency programmes and producing contemporary pottery.
We were privileged to visit both Sanbao and a more recent enterprise, the "Pottery Workshop and Creative Market", founded in 2005 by Caroline Cheng. The market, which is open every Saturday morning, has over a hundred vendors, mostly young local artists. And Caroline exercises strict quality control – on the day we visited, she had already told two vendors they were no longer welcome because their goods did not meet her standards! As well as the market, Caroline runs courses and residencies, has her own design studio and shop, and a small café where we enjoyed a break surrounded by her work and that of her students.
There were plenty of opportunities to enjoy the history of the area, including visits to the Jingdezhen China Ceramics Museum, learning about governance during the Qing Dynasty, and a visit to Yaoli Old Town. Our "cross-country walk" in Yaoli, where we navigated a somewhat scary-looking bridge over the river, gave us the chance to experience what life must have been like for the original ceramics producers, who had to mine the stone and transport it across difficult terrain. There we saw the hammer mills that crush the Yaoli porcelain stone, the pottery wheels, and the ancient dragon kilns nestled in the wild countryside.
Other highlights included the giant sculptures and vases at the porcelain factory in Jingdezhen. At only five feet tall, I was dwarfed by some of these magnificent monsters and truly impressed by the ingenuity and artistry of their creators. And, of course, there was time to shop! We enjoyed shopping in Yaoli Old town as well as wandering around the night market near our hotel – some great bargains, but (more important to me) the chance to talk to some of the young artisans selling their products. And finally, a surprise treat from our local guide, who took some of the group to the early morning market and came back with Song Dynasty shards for us to share. I now proudly display my two pieces of broken pottery alongside my other china – little pieces of history, perfect in their imperfection.

[1] See https://on.china.cn/2HrV4CC for more information
[2] See https://chinaclayart.com/ for more information