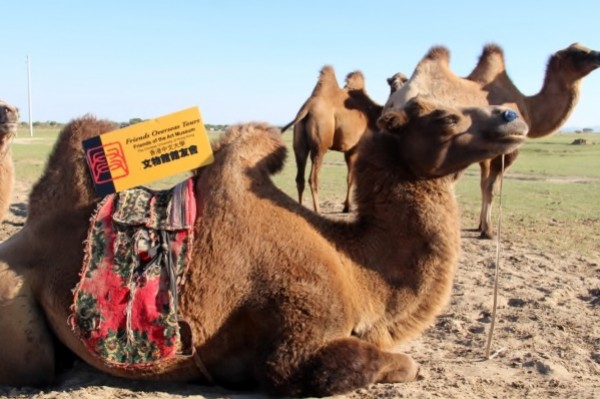 by Raymond Chu
My wife introduced me to the Friends of the Art Museum, and this trip to Mongolia was the first time I travelled with them.
Although I have visited Chinese Inner Mongolia many times, we decided to join this trip so that we could satisfy our curiosity and get an interesting introduction to Outer Mongolia.
The landing in Ulaan Baatar airport reminded me of China of 20 years ago, when China was just opening up for tourist travelling. Definitely, they will need to expand the airport and its immigration facilities to cope with the aircraft and the rush of tourists that can be expected in the near future.
This trip revealed many unexpected historical facts, which were provided by our professional Mongolian guide, "Sunny." She was very proud of her country and happy to share her enthusiasm. Before, we had only learnt about Mongolian history from a Chinese point of view, for example, studying how the Great Wall was built against the nomads. Now we were introduced to a cultured civilization in the Hunnu Empire.
As Chinese, we tend to think Mongolians are just one of five types of people alongside the Han people and we see Genghis Khan as part of our Chinese history. Wasn't Kublai Khan, the first Emperor of the Yuan dynasty, and part of Chinese traditional history? Now we see this more from the point of view of a unification of both Mongolian and Chinese history.
It was interesting to hear about the three episodes of history from Sunny who explained that there was a Turkish episode, a Mongolian episode, and a Chinese episode – so three versions of history to comprehend! Which viewpoint holds the most truth?
The most delightfully surprising thing was to see the beautiful natural landscape with such a vast, flat grassland (not really much grass, but many sweet smelling herbs) with horses, cows, sheep, and goats, who were all so relaxed and enjoying their grazing. Another surprise was to discover that 50% of the population still live as nomads in Mongolian "gers", just as in centuries past (though these days, some have solar panels and satellite dishes!).
Participating in dismantling a ger and assembling it again definitely improved our understanding and appreciation of how quickly and easily they can be built and moved. This must have been a strong benefit in the past with its important function facilitating the mobility of an army force.
The special method of Mongolian "hoomi" throat singing left a deep impression on me, and the high tones of the Mongolian lady singing the special Long and Short Mongolian songs were amazing. They were so evocative of their "mother grasslands."
Our visits to the Hustai National Park, seeing the last remaining wild horse species, to the ancient Erdene-zuu Monastery with its many well preserved thangkas, the Gobi rocky mountains, and the Terelj National Park, all gave me impressive memories.
The Tibetan Buddhism influence and the yellow hat sect had important influences on the daily life of the people. My only regret is there are not many tangible historical sites left from Genghis Khan and no palaces due to the nomadic lifestyle. The artifacts found are those now kept inside museums.
This is my short description of the tour and I definitely recommend others to join. Indeed, I am keen myself to join again in the future. It was very successfully organized and I wish to express my thanks for all the preparation for a wonderful trip.