Exhibition Period: From 15 September 2021 to 31 August 2022
Venue: Online
The Shang dynasty inscribed oracle bones were found at Yinxu, Henan province. Its purpose and function shed significant light on the origin of Chinese culture, disclosing major concerns of the time. Shang oracle-bone script is the earliest known form of systematic Chinese writing which is a crucial source for understanding the development of Chinese characters as well as the history of the Shang dynasty.
The Chinese University of Hong Kong (CUHK) is the largest repository of oracle bones in Hong Kong, including forty-four oracle bones donated by Mr. Deng Erya's family to United College and twenty-seven by Mr. Lee Yim to the Art Museum. On the occasion of the United College's sixtieth anniversary and the golden jubilee of the Institute of Chinese Studies (of which Art Museum is an integral part), the exhibition A Legacy of Elegance is jointly presented by United College, the CUHK Library and Art Museum as a celebration event. The exhibition features the oracle bones from the CUHK Collection, the oracle-bone and bronze scripts from the Art Museum Collection, and publications on oracle-bones studies from the CUHK Library Collection. Exhibits include calligraphic works and monographs by well-known scholars such as Luo Zhenyu, Deng Erya, Tung Tso-pin, Rong Geng, Shang Chengzuo, Feng Kanghou, Lee Yim and Jao Tsung-I. The specialist catalogue A Legacy of Elegance: Oracle Bones Collection from The Chinese University of Hong Kong edited by Dr. Li Zong-kun of Institute of History and Philology, Academia Sinica, Taipei is intended for both the expert and the uninitiated yet educated reader. The two essays written by Dr. Ho Pik Ki, Peggy of Art Museum, CUHK reveal the close relationship between and achievement of oracle-bones studies and art of the University.
To celebrate the Golden Jubilee of the Art Museum in 2021, A Legacy of Elegance was made into a virtual exhibition, in which visitors can travel back in time and reflect on the origin and development of Chinese culture.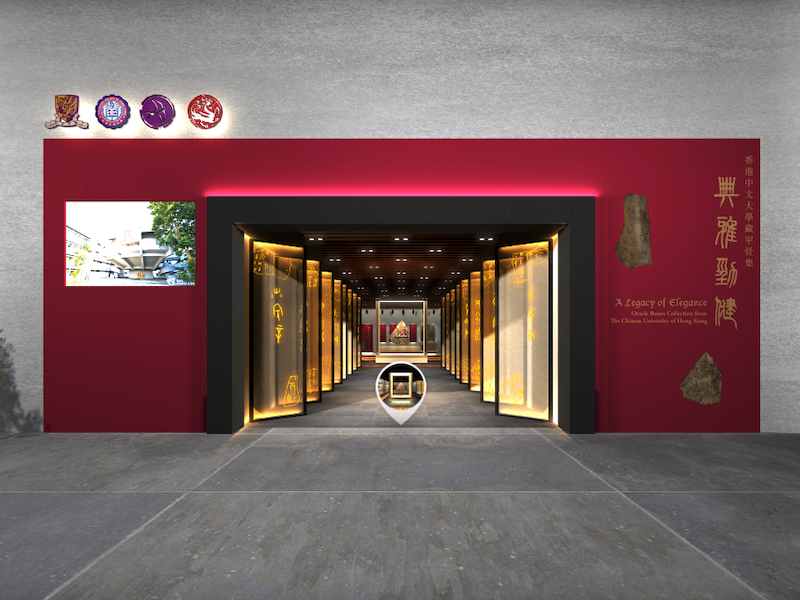 Click Here to Visit the Virtual Exhibition
Transcription of Calligraphy: Click Here